Cold Laser Therapy
What is Cold Laser Therapy?
Cold laser therapy, also known as low level laser therapy is low intensity laser-light therapy that stimulates healing in the body. For this procedure, different wavelengths and outputs of low level light are applied to a targeted area. The tissue in that area absorbs the light which causes damaged cells to respond with a physiological reaction that promotes healing and regeneration.
How Cold Laser Therapy Works
During treatment, you'll feel the laser device touching your skin, but the procedure is painless and noninvasive. There is no sound and you'll feel no vibration or heat. Cold laser therapy can be used in conjunction or instead of accupuncture for treatment of chronic pain and treatment generally last between 30 seconds to several minutes, depending on the size of the area being treated and the dose provided by the cold laser unit
How Infinite Wellness Uses Cold Laser Therapy
Low Level Laser Therapy can stimulate all cell types including muscle, ligament, cartilage, nerves, etc. At Infinite Wellness we use low level laser therapy in conjunction with biological testing and treatment for a variety of issues described below.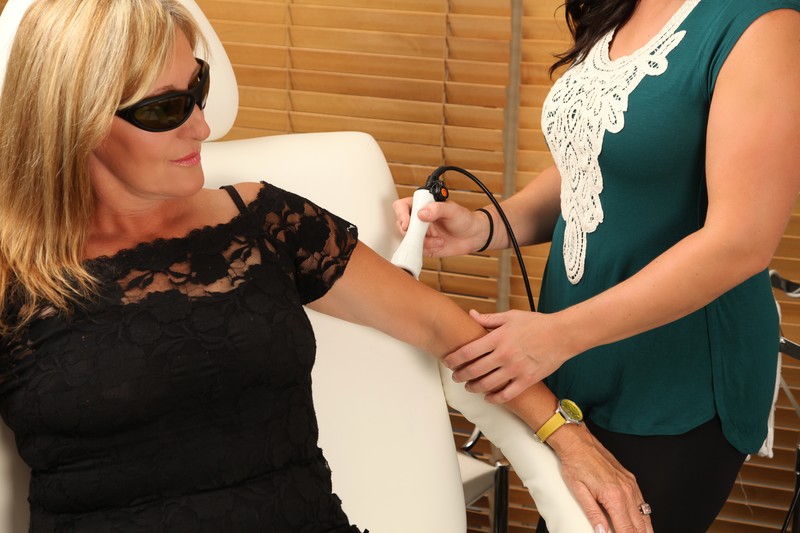 Did You Know?
The use of cold laser therapy is growing in traditional medical practice and as a complementary or alternative therapy. It's approved by the U.S. Food and Drug Administration (FDA) for a number of conditions.
Questions About This Treatment?
Please contact us with any questions. We will be happy to explain how this treatment works and what it can do for you!
"I have been a patient of Sabrina's for several years.  I first started seeing her after damaging the tendons in the bottom of my foot.  Western Medical Doctors wanted to do surgery and a year of physical therapy.  Sabrina was able to relieve the pain and mend my foot in just a couple of weeks."
"For twenty-five years I have had pain in my right ear, especially if I rolled to that side during sleep. I would wake up in terrible pain. No doctor could give me any relief without suggesting medications. However, the very first day that Sabrina treated my ear with acupuncture, the pain was gone and now a month later I am still pain free. The procedure is so easy, I wish I would have tried it sooner. Thank you Sabrina, for the wonderful, restful nights sleep."
"Sabrina has helped me in so many ways, it's hard to summarize them in a few paragraphs. Due to a head injury 30+ years ago, I've had severe ear and neck pain everyday for years. Nothing helped the pain. Numerous trips to specialists who told me there was nothing wrong was very discouraging. A friend recommended Sabrina. After my first acupuncture treatment, the pain was gone. This was the first time in 30+ years I didn't have the severe pain I lived with every day."
Begin your Wellness Journey
Contact us or request us to give you a call back!