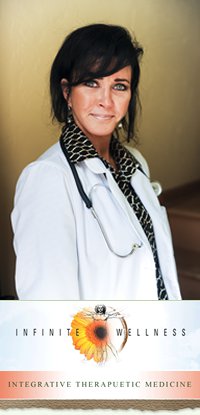 Infinite Wellness
Release the Full Potential of Your Health
Whether you are a firm believer in Alternative Medicine or a newcomer seeking relief that Western Medicine has failed to provide, Infinite Wellness Holistic Medicine Denver can help you to reach a new balance of health and physical harmony.
Through our testing capabilities, we have learned that the combination of multiple-modality medicine has been the answer in treating chronic, long-term illness. Our testing allows YOUR BODY TO TELL US what is required in order to reestablish optimal health. Each combination of medicine your body selects is chosen based upon the need to treat different parts or layers of the body on different levels at the same time. One can serve where the other cannot and the combination is the perfect union.
-Sabrina Maiden, L.Ac.
"Sabrina at Infinite Wellness is not only a wealth of knowledge, she has changed my life. For anyone doubting the power or effectiveness of alternative medicine, I am here to tell you it is no joke. See for yourself!"
"After not feeling like myself for several months, I went to a GP. He wanted to put me on a medication that I had concerns about the side effects and usage long term. In my search, I found Sabrina. She brought other issues to my attention that could have been causing some of my symptoms. I noticed a difference immediately after following Sabrina's recommendations. She genuinely listens and is extremely knowledgeable in techniques to heal your body. "
"From the moment I walked into Infinite Wellness I felt like all my problems were going to be cured. Sabrina has created an environment that feels like home. She takes the time to listen and get to the root of the problem! 100% recommend!!"
Want to Know More?
Watch our brand new video to learn how Infinite Wellness helps you to feel your best!
Alternative Medicine, Homeopathy & Holistic Health in Denver
Our Wellness Mission
Infinite Wellness offers the most progressive technology and comprehensive medicine in Alternative Medicine today. From a warm and welcoming environment in Castle Rock, Colorado, the clinic has successfully restored thousands of patients to optimal health who were suffering from chronic degenerative diseases, largely considered incurable or unsupported by the Western medical profession.
What sets Infinite Wellness apart from other practicing clinics is its approach to Individual Applied Medicine by using comprehensive testing and regulation of the body's metabolic pathways through Biofeedback Screening, Applied Kinesiology, Acupuncture and the combinations of German Biologic and Spagyric Medicines, Oriental Medicine/Chinese Herbology, Homeopathy, Injection Therapy, Nutritional and Naturopathic Medicine.
There are many people in Denver who suffer from Crohns
The significance of food allergies and food allergy testing for
Begin your Wellness Journey
Contact us or request us to give you a call back!